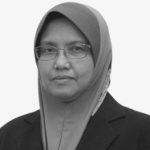 Dr. Noriah Bidin
SENIOR SCIENCE ADVISOR
---
CAREER SUMMARY
Noriah Bidin received a BSc degree in Physic from Universiti Kebangsaan Malaysia (1981), and MPhil in Laser Matter Interaction (1987) from Loughborough University of Technology in United Kingdom, and PhD in Laser Physic (1995) from Universiti Teknologi Malaysia. During her 35 years academic experiences, she has gain various prestiges recognitions, awards, publications and patents from the researches she has spearheaded in the related scientific fields.
WORK EXPERIENCE
After graduation, Noriah joined Universiti Teknologi Malaysia (UTM) as lecturer from 1982 to 1995). She was promoted as associate professor in 1996 and full professor in 2008. Noriah was the Head of the Department of Physics Faculty of Science from 2008 to 2010, and Director of Laser Center of Universiti Teknologi Malaysia from 2014 to 2017.
TEACHING ACTIVITIES
Noriah taught courses on fundamental physic (1982 – 1985), laser technology and laser in medicine (1989 – 2017). She has supervised more than 100 Undergraduate students for their final year project and industrial training. Also, Noriah supervised more than 50 Masters students and 36 PhD students. She has examined more than 20 Masters and 30 PhD's theses.
OTHERS EXPERIENCE
Noriah was appointed as a panel for the safety guide on Lasers in medical usage in 2009 by the Malaysian Health Ministry in Putrajaya. She was also a panel of evaluator for fundamental research grant scheme by Ministry of higher education from 2012 to 2017. She was a member of International Advisory Committee for International Symposium on functional material science in 2011.
RESEARCH ACTIVITIES
Beside her active duty in teaching and management, Noriah has secured many research grants to conduct various scientific experiments in her related fields. This include setting up experiments to construct and design laser system in the subject of laser technology. Noriah has headed several fundamental researches such as Enhanced H2 production from plasma electrolysis of water using laser ablation technique (2011 – 2012), white light effect on hydrogen production by water electrolysis (2014 – 2015), and the effect of magnetoptic on hydrogen production (2016 – 2017).
WRITER
Noriah has published some of her works in many high impact journals. Related to hydrogen production, these include Enhancement Of Hydrogen By Laser Focusing During Plasma Electrolysis Of Water that was published in Optoelectronics and Advanced Materials Journal in 2010, The Effect of Green Laser Irradiation on Hydrogen Production published in Laser Phys. Lett. in 2014, The Effect Of Sunlight In Hydrogen Production From Water Electrolysis, and The Effect Of Magnet And Optic Field In Water Electrolysis, both published in The International Journal of Hydrogen Energy in 2017.
AWARD AND HONORS RECEIVED
Noriah has attended several local and international exhibitions. She has received almost 13 gold medals, 3 silvers and 7 bronzes. She also received the best inventors award for the invention of a Miniaturize Laser Kit System (2013) from the Industrial Art And Technology exhibition INATEX in 2013, and the invention of Fiber Optic Refractometer by Malaysia Technology Expo (MTE) in 2017 and special award for the invention of Silica Extraction From Rice Hush Ash By Laser Technology by MTE in 2018.
TRAINING, VISITING AND CONFERENCE ATTENDED
Noriah has attended several courses regarding the laser operation training in UK (1991), laser maintenance and repair in Florida USA (2004), high power laser matter interaction in Osaka japan (1999). She has visited Shanghai institute of Optic in University of Sandong China (2004), Synchrotron Radiation in National University Technology Singapore (2012), Synchrotron Light Research Institute SLRI Thailand (2013), and attended symposium on intense laser science in Gwangju, Korea (2004). She was given the honour to be a keynote speaker in Surabaya Indonesia (2011) and Lahore Pakistan (2015), as well as invited speaker at several international conferences including in Bali Indonesia (2011), and Hanoi Vietnam (2006, 2009, 2016).